Top 10 Benefits Of Implementing SAP ERP For Your Business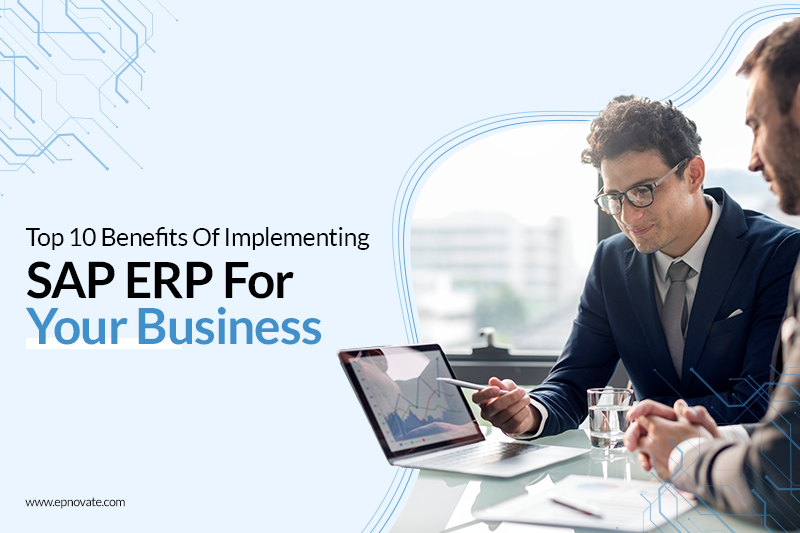 In a rapidly developing business world, effective communication and smooth data exchange within the company is necessary. If you desire to grow your business network with hassle-free technology, then a centralized system is the most trusted and reputed option. SAP Development Company offers ERP systems that manage your data and ease the functioning of your organization.
What is SAP ERP?
SAP stands for systems, applications, and programs. It globally develops ERP – Enterprise Resource Planning management solutions that provide businesses control over their information and functions. SAP ERP is a centralized system that assists organizations in the free-flow of data and safe communication.
Why do companies implement SAP ERP?
When it comes to efficient communication and cost-friendly stability of any data-driven company, the decentralized system can hamper consistency. Lack of effective business programs can lead to data loss, miscommunication, and customer dissatisfaction. With ERP software solutions, companies can stay assured of maintaining their data within their workforce at a centralized location.
Top 10 Benefits of implementing SAP ERP for your Business
Long-term monetary savings
An SAP ERP system helps to reduce unwanted duplicate production as there is one central point of contact. It also maintains the reputation of the company and increases the revenue rate due to increased customer satisfaction.
Customized solutions
ERP is a flexible business system that allows easy access to all the employees depending on their requirements. The software is useful for various department processes such as production, finance, and HR management.
Increased productivity and efficiency
Employees from different departments can easily communicate with customers, other employees, or third party sources with an ERP system. With faster and easier communication, the time for efficient work increases so does productivity. All the processes of the company can be efficiently tracked and managed with the help of SAP ERP.
Enhanced data security
With ERP software, your company's critical data gets stored and protected in a centralized system. An in-built security system and limited access to information protect the data from being misused.
Cost-efficient use
When there is easy access to the information in a company, the cost of unnecessary resources, labor, and inventory materials is avoidable. ERP system enables companies to cut down on operational and administrative expenses and increase profits.
Improve business efficiency
SAP Development Company is known for its business-enhancing software. ERP allows organizations to manage a large amount of data efficiently. It provides modern and adaptable systems for advanced business operations.
Data analysis and reporting
ERP systems enable the recording of data in real-time reports. The data analyzed by SAP ERP is more accurate and less time consuming than human data analysis. Data backup and restore processes helps companies to stay away from the risks of data duplication.
Easy scalability
ERP software provides solutions to expand your business network in every field of work. Employees' capability, required equipment, and data handling, are all taken care of by SAP ERP design.
Efficient data management
Any data-driven organization needs to manage data such that it is accessible to all the employees. ERP centralizes systems stores and organizes data in a systematic manner, which makes it easy to use.
Maintain consistent operations
SAP ERP centralizes access to information for all the departments. That makes it easy for all the fields to work for one shared objective, avoiding the risks involved in critical decision-making.
Due to globalization and revolution in technology, efficient management of information is vital for every growing organization. SAP ERP system reduces the risk of data loss, lack of communication, disorganized data, and increased cost. The expert team of developers at Epnovate Technology provides you with innovative SAP consulting, development, and support. We help businesses to maintain a consistent flow of work for maximum customer satisfaction and increased revenue rate.