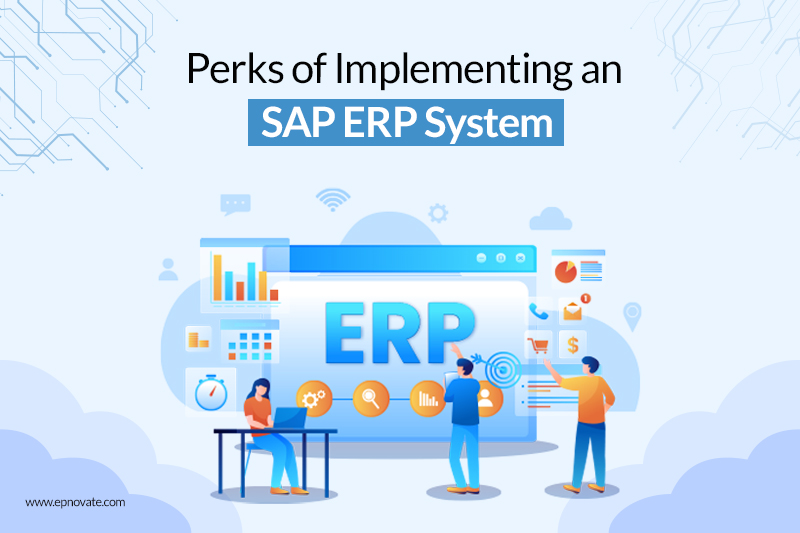 In today's world, ERP or Enterprise Resource Planning is required by every business if they wish to remain relevant. ERP systems can centralize and unify data from different business departments to accelerate the flow of information.
SAP ERP systems are involved in gathering, maintaining, storing, and interpreting data from various functional areas. Covering various aspects such as finance, manufacturing, logistics, and business intelligence, an effective SAS ERP system can offer a complete internal and external perspective of your business.
Advantages of Implementing an SAP ERP System
Let us focus on the various advantages and benefits of implementing an SAP ERP system:
Streamline processes with elegance and effectiveness
Businesses can thrive by establishing strong collaboration among the various departments of the company. Proper coordination can facilitate smooth operations and profitability. An SAP implementation service associated with an ERP module can help to streamline the business processes and share information effectively with all departments.
Promotes reliability and employee efficiency
Manual tasks and processes can be significantly reduced by implementing SAP ERP solutions. The team members can focus on being more reliable, align their day-to-day activities better, and effectively work towards the corporate goals and strategies. The workforce efficiency can be increased by rewarding and praising good performers too.
Prominent asset management
A SAP ERP system ensures better functioning of a business by using key features such as performance metrics and measurements for managing assets better and effectively, achieving success. The business assets such as capital, infrastructure, and raw materials require a framework for managing them, and ERP systems can succeed in providing it. They can perform comprehensive management of safety data and improve environmental impact and operational results.
Superior elimination of redundancies
SAP application development can ensure better data quality and security so that unnecessary wastage of resources can be avoided. The presented information is centralized with automatically scheduled backups to prevent any failure. Maintaining optimum levels of production can make sure resources are saved and help the technician team detect and resolve malfunctions without delay.
Prioritization on customer satisfaction
SAP implementation services enable valuable customer service and help build quality relationships with customers. Businesses can improve their marketing campaigns and get clear insights by tracking customer data. Accurate data can be analyzed by SAP systems and by reviewing customer feedback. As a result, customer satisfaction is guaranteed, and this also develops customer loyalty.
Ensures compliance and improved efficiency.
The ERP system can exclude repetitions and redundancies to a significant extent, and this feature reduces erroneous data that may lead to business issues. A well-implemented SAP implementation service can ensure compliance with regulations put forward by the government authorities. These systems can manage multiple contracts, provide alerts, simplify processes, and ensure that all equipment runs at optimum standards.
Automatic task execution and absolute analysis
SAP application development ensures better data quality by enabling the system to avoid duplication and report present system records. Various sets of tasks need to be executed within a limited time, which is possible by implementing an ERP system. Automatic data processing and services can upgrade transparency and revamp performance efficiency.
Provides flexibility and adaptability.
With centralized data processing, ERP systems can accommodate multiple units of a business in data processing and sharing, thereby infusing flexibility and adaptability in the company. This can further promote better consolidation, scheduling, and workflow management by providing insights and recommendations at the time of decision.
High-caliber cost-efficiency
ERP systems can prove to be cost-efficient by using accurate and real-time information for minimizing the administration and operations expenses
Excessive mobility and customization
SAP systems can promote excessive mobility and be highly customizable to develop better decision-making abilities.
Conclusion
Implementing an effective SAP ERP system can provide easy scalability, better planning and reporting, improved collaboration services, and better visibility and accessibility of businesses. If you wish to opt for a prominent SAP implementation service, reach out to us and book your appointments.