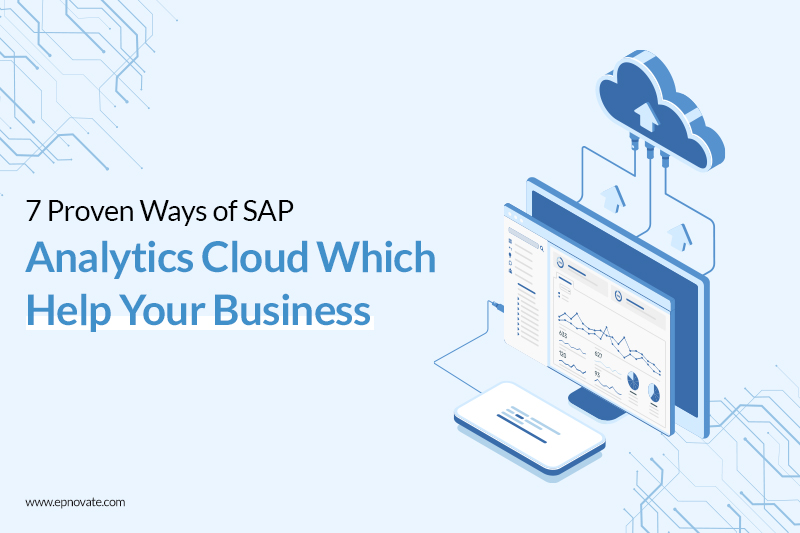 Business owners and young entrepreneurs use the latest computer software and languages to flourish their business. In modern times, computers and software are a big help to business owners to keep their business information safe and on track.
What is SAP analytics cloud?
For people new to the world of computer languages, SAP is System Applications and Products in the data processing. SAP Cloud Platform was developed by SAP SE. It allows the business owners to create new applications or extend the existing ones in a safe and secure cloud environment. It keeps the data and information regarding your business safe and secure. Data saved in the cloud can be accessed by your employees anywhere at any time.
Seven major challenges that SAP Analytics Cloud solves for you
Let us see how SAP software solutions respond to challenges in a way that determines the strength and potential of a business.
Aligning your business plans in the correct direction
A business comprises many components and teams, like the HR department, the Sales department, the Finance department, the Marketing department, etc. With so many departments, there comes a lot of information and data.
SAP Analytics Cloud allows you to keep all this data collaboratively and allows you to align and link all this information securely. You can also make plans and schedule meetings using the discussion panel of SAP Analytics Cloud.
Plan your financial schedules
SAP Analytics Cloud has many useful features like business intelligence, planning, and analytical competencies in one single platform. You can use this one software to manage all your tasks at the same time.
Being aware of your insights
SAP Analytics Cloud analyzes your business data and introduces you to useful insights. SAP Analytics Cloud has Augmented Analytics, which allows you to study your data through trends and cycles. It also lets you explore your expenses and expenditures.
SAP Analytics Cloud allows its users to choose and select personalized and aesthetically built stories, data models, and dashboards. The platform that SAP Analytics Cloud provides you is according to your needs and demands, to get the best from it. The business content library offers best practices to leverage your data.
As said, SAP Analytics Cloud allows you to build and plan the right model for your data to be saved securely. You can immediately start planning for the best decisions for your business. 'Models' clean, add formulae, establish hierarchies, define rules and conditions, and enhance your data so that you can understand and analyze it. 'Stories' allow you to visualize your data using charts and graphs.
Predictive analysis helps in improving planning cycles
SAP Analytics Cloud has predictive analysis technology that calculates accurate expenditure charts to help you invest your money carefully.
Enhance your strategic business decisions
SAP Analytics Cloud has many helpful features like searching for insights to give you instant answers, smart insights that help you know your valuable contributors of data points, and smart discovery that identify the key influences and relationships that influence your business significantly.
What will your business reap by using SAP analytics cloud?
Rapid growth: SAP Analytics Cloud allows a bright prospect for business owners as it allows the users to plan and analyze their data successfully.
Simplified data: SAP Analytics Cloud has a simplified approach for data analysis. Users can connect all their information from the different departments and make correct decisions.
Better discoveries: The data that SAP Analytics Cloud presents its users with great visual insights that allow its users to understand their business trends accurately.
SAP can very much contribute to the smooth functioning of any business. The more you rely on SAP, the more the benefits are.
If you are a young business owner and want to start using SAP Analytics Cloud, let Epnovate be your partner in your successful journey. It is the best SAP software development company in India, with all these useful features and services that will flourish your business.